World Day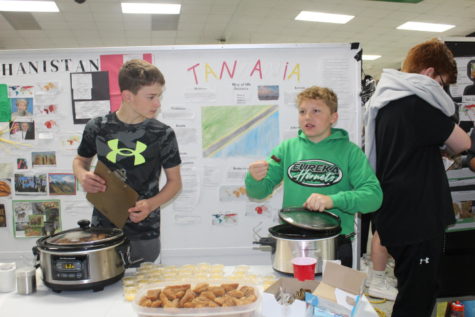 World Day is when the seventh graders get into groups and present about their country. First we read a book in ELA class that takes place in our country. Then we did research about our country in social studies class. Next we made food from our country and brought it in on world day. Then we printed our information and put it on our board. Lastly we presented our boards and we got to go around and learn about other countries and eat their food.
Many kids were excited to eat the food from other cultures and countries. After asking a couple people we found out that Churros, Alfehores (Spain) and Rice and eggs (Myanmar) were very popular foods. I also heard that Koshari (Egypt) was not a hit because it was spicy and the donuts from Kenya because "They were horrible"-Corbin Short. Cayden Fogo liked world day because he got to be free from school work. 
Many people wish they could redo world day for many reasons like the way they set up their board, the information they had their board or the information they got from other boards, and one person said they would change their group.
Overall most people liked world day minus the stress it caused them. Feben Gates says for the upcoming 7th graders to keep in mind that it's not as easy as people make it seem and get good research. We think that you should make sure to have ALL the information you need and to just have fun and not fight with your group! It's a really fun project so enjoy it.