Watch me Twirl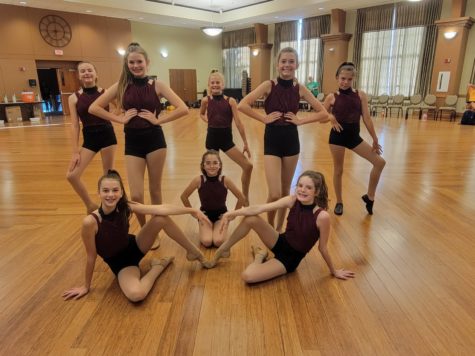 Dance is twirling in, with a season full of competition and basketball/football! We have eight middle schoolers ( Penny, Kelsey, Vivian N, Vivian C, Summer, Keianna, Elsie, Norah, and Delilah ). 
The things I am liking the most about dance is our teamwork and all our friendships. My favorite genres are kick, hip hop, and lyrical. Some of my teammates' favorite genres are hip hop, lyrical, and kick. Same with me! My teammates are also all very excited for the upcoming competition season! Norah even said, " YES I'm really excited, and I'm most excited about the costumes. When you get a new costume it's like…" then sighed out of amazement for our  costumes. 
A few things hard in dance from my point of view are doing fouettes (turning going up and down on the foot on the ground). Some of my other teammates say that calypsos, coupets, and sea jumps are pretty hard. It's also hard to get new moves down in the beginning. 
We are going to be competing next season and basketball and football have already started! You can come to the home football games to see the highschoolers perform at half time at the football players.Ems boy's basketball is starting up soon, too, so you can see the middle schoolers perform at the boys basketball game. Competition is starting up soon so come and watch those too we will be performing competition dance routines against other teams in the area. We do a 2-3 minute routine and the judges give us points. Maybe if you ever want to join our team or come cheer us on make sure to be loud and proud.