Eldon Voorhees – 50th anniversary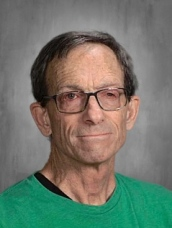 Eldon has been a janitor at our school for 50 years now! And the best part is, he's not retiring yet!  Most days he comes to the school in the afternoon to clean up after us ungrateful students. We all know that we should be more appreciative of him for all the hard work he does while we're all at home.
Eldon was born in 1952, in Peoria, IL. He grew up and attended school right here in District 140. He started this job in 1972. This was actually the first job that he ever had. Isn't that crazy? We tried to interview him, but he didn't want to answer too many questions, so this is what we got:
Questions: Why did you decide to be a janitor?
Answer: I just decided to stick with it.
Questions: What is your favorite memory from your job?
Answer: 50-year anniversary party

All in all, Eldon is a great man and a great janitor. So, every time you see him in the hallways, or in the gym, take some time to show him your appreciation by saying thanks!