Cookies with Chloe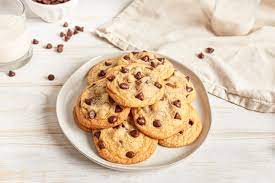 Do you like baking? What about cookies? Well, here is my experience in baking chocolate chip cookies and the recipe that I used. 
The ingredients that you need are 2 ¼ all purpose flour, 1 teaspoon baking soda, 1 teaspoon salt, 2 softened butter sticks, ¾ granulated sugar, ¾ brown sugar, 1 teaspoon vanilla extract, 2 large eggs, and 2 cups of whatever chocolate chips you want.
First you want to preheat your oven to 375° F. Then in a smaller bowl combine your baking soda, flour, and salt. Then in a larger bowl combine your softened butter, granulated sugar, brown sugar, and vanilla extract. Mix those ingredients until smooth. After mixing until smooth, add your first egg then mix until well combined. Then add your second egg and stir. After that you want to add your flour mixture gradually until thoroughly mixed.
Next, you want to get a baking sheet with parchment paper or an ungreased pan. Bake for 9 to 11 minutes. Then, cool the cookies for 2 minutes and enjoy! 
My experience with baking these cookies went pretty good. The only thing that I would change about how I made them is how many minutes I cooked them for. I accidentally burned them. If your cookies look done but they are kind of pastey on the top try making them sit out and cool. 
Next time you feel like baking, maybe this recipe is for you.                                        
https://www.verybestbaking.com/toll-house/recipes/original-nestle-toll-house-chocolate-chip-cookies/