100 Ideas to Do When You're Bored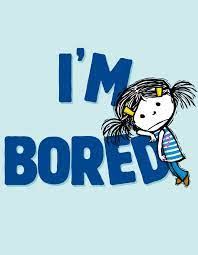 You have probably had a day when you were so bored you wanted to be in school. This list below ⇩ has 100 ideas and activities to do when you are really bored. 
 Build a fort 

 Call a friend  

 Color/draw 

 Play volleyball

 Play a board game

 Watch a movie 

 Hangout with a friend 

 Cook/bake  

 Paint 

 Convince your parents to get a pet

 Read

Make a playlist of your favorite songs

Play video games  

Go for a walk   

Take a nap 

Write a song 

    Teach your pet a new trick 

Write letters 

    Rearrange your room    

Make a domino chain  

Do a puzzle 

Go swimming 

Go on a bike ride 

Ride a dirtbike / fourwheeler 

Roast s'mores over a fire 

Nurf gun fight with your siblings 

Jump over toilet paper rolls

Watch YouTube 

Play with stuffed animal 

Do a fashion show

Go to Target, Walmart, or Dollar General

Download a new game

Try new foods at different restaurants

Play booklet or make a Kahoot  

Play with your neighbors 

Jump in leaves

Go to Crumble Cookies

Have a picnic 

Go to a trampoline park

Research your favorite animal 

Go to the park 

Swing 

Learn a new sport 

Go to Uncle Bobs / Lydia's dairy barn 

Write a play

Practice the sport you do 

Carve pumpkins

Paint pumpkins 

Play four square 

Plan a party 

Play games with your Alexa if you have one

Do crosswords 

Put stickers on your water bottle 

Decorate your room

Order stuff on Amazon 

Make a Christmas list

Make a birthday list

Make hot cocoa 

Climb a tree 

Make ice cream/milkshake 

Give your pet a treat

Learn sign language

Learn a different language

Write your own story 

Do an art challenge 

Make a house out of popsicle sticks

Do a free car wash near your house

Make a lemonade stand

Play hide and seek 

Make an obstacle course 

Build with Legos 

Go on a scavenger hunt

Use chalk to draw on your sidewalk 

Listen to a podcast 

Collect rocks and paint them 

Make slime 

Put together a time capsule

Make your own lunch 

Listen to an audio book 

Do an egg drop experiment 

Put mentos in soda and make it go boom

Go to the zoo

Go to an aquarium 

Make fruit kabobs

Play in a creek 

Go to a water park

Grow a garden 

Grow a Venus flytrap 

Play catch 

Plant a tree 

Play frisbee 

Go to the library 

Tie-dye  

Go bird watching 

Camp out in your backyard

Play duck duck goose 

Make bath bombs 

Finger paint 

Play charades 

Take silly selfies 
I hope this helps you!!!!